A S T R O P H O T O S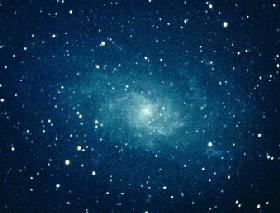 M33 - 20 min on hypered Fuji SG800
---
Here are some photos I took recently (manual guided):
These were taken using the Pictor 201XT autoguider:
For every good photo, there's plenty of bad ones!

Here's my very first astrophoto - M13 (27k) taken on my Meade 2080. Note the "sprocket holes" - they 1 hour photo guy misfed my negative! Ouch!
Here's my second attempt at M13 (26k) a month later with my brand new Celestron Ultima 8 PEC.
All the photos were taken through the SSC-10. The photos were developed at a 1 hour photo and then 4"x6" prints were scanned. On some of the images I adjusted the gamma correction to make the background darker. No other enhancements were done, unless noted.
---

[ hOmE | iNfO | pHoToS | oPtAs ]